During the special openings of the
FAI Spring Days
, I managed to take a peek to the intriguing Boncompagni-Corcos palace, a building with an interesting story.
The Corcos were a rich family of Jewish discent; due to the closeness to the
Oratorio dei Filippini
they got in touch with the Saint, and, impressed by his mission, they decided to convert to Christianism.
As they converted and baptized they needed a "new" surname to go by-- And in these cases, the surname of the current Pope of the times applied to them: that's why the palace is called "Boncompagni-Corcos". If anything, the Corcos became even more influent and powerful, and profitted "to fix" their residence, among other things.
The original building dates around the 1640s, it was enlarged and richly decorated in the 1660s by Pietro Boncompagni.
The structure is quite simple and elegant, in an attempt to take inspiration from
Palazzo Farnese
, with its light yet powerful Reinassant vibe.
Travertine and bricks are another hint in this sense-- You can feel the baroqueness of the architecture only in the decorations of the windows and the
mascheroni
decorating them.
Once inside, we're welcomed by a tiny yet nice courtyard, featuring an interesting interpretation of Ionic capitals:
The columns were obviously just paired up, the capitals were added on a second time-- thus explaining their weird look!
The achitecture bits were fixed by
Giovan Antonio De' Rossi
, and the painting decorations are the job of
Carlo Cesi
-- The decorations followed the trend of the mythological themes imbued with edifying morals, allegories, or scenes of the Old Testament.
In this sense, the most important artwork is the one dedicated to the marriage between Maddalena Boncompagni and Filippo Camerata of Ancona, dated 1661, September 22th, proudly celebrated by Pietro with a
fresco
depicting the marriage between Ariadne and Bacchus...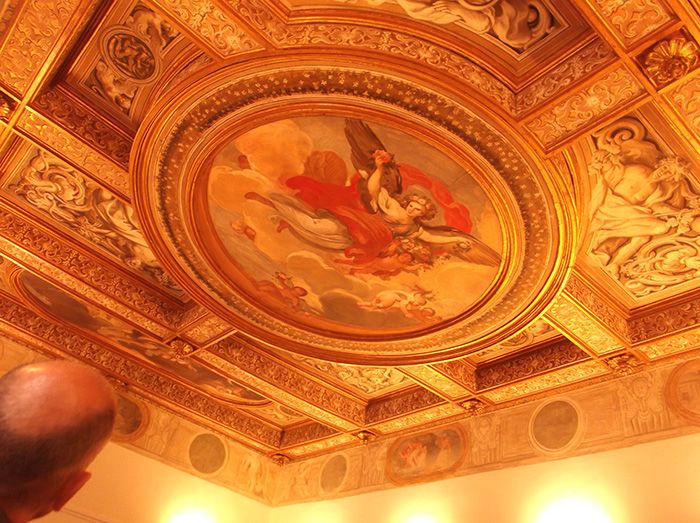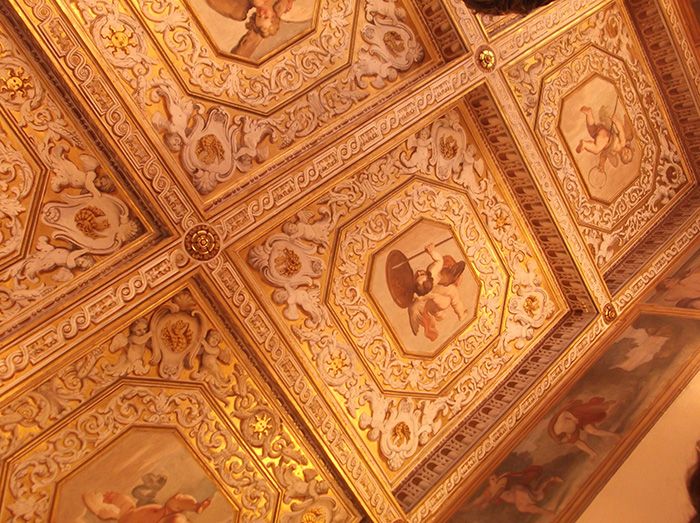 --I was more taken aback by the ceiling decorations, though, sorry guys!
One of the most interesting rooms, in my opinion, was the tiny yet richly decorated little private chapel.
Besides the beautiful marble decorations and the fine paintings, it hosts a venerated icon of Virgin Mary, said to be miraculous during the Pestilence of 1657, and an extremely cute example of a tiny, home nativity scene to decorate during Christmas time--!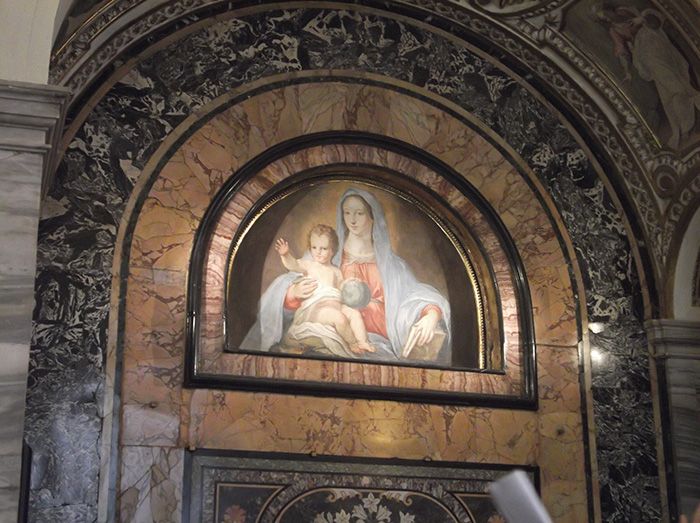 On a parting note, the chapel is decorated with portraits of religious figures that the Boncompagni-Corcos held in great consideration-- It was nice to see that
Pippo Buono
was there too..!