The
Italian branch of the Japan Foundation
is used to promote interesting exhibitions and events dedicated to less known aspects of Japanese culture. This Spring the subject of the most recent exhibition was the
meisen
, a certain style of kimono used for everyday life, characterized by cheap materials and colourful and modern patterns.
The
meisen
style is a consequence the opening to the West, in that era of modernization known as Meiji Period that would lead to the lively Taisho and Showa Period, that saw the boom of the
meisen
kimono.
Opening the borders and starting trades and massive export led to an impoverishment of the quality of the silk destined to the inner market-- but at the same time, Japan imported extraordinary novelties, like cinemas, dance, trends and different lifestyles. Modernization of life and freetime merged with the introduction of colourful, vivid patterns that characterized the modern days of Japanese history.
The economy of the areas focused on the production of
meisen
kimonos showed an increase, as the scholastic education started to spread to the female population, with more and more women starting to work and leading professional, independent lives.
In this peculiar historical momento, the
meisen
kimono, with its cheap price and colourful designs, became a symbol of a progressive and active lifestyle.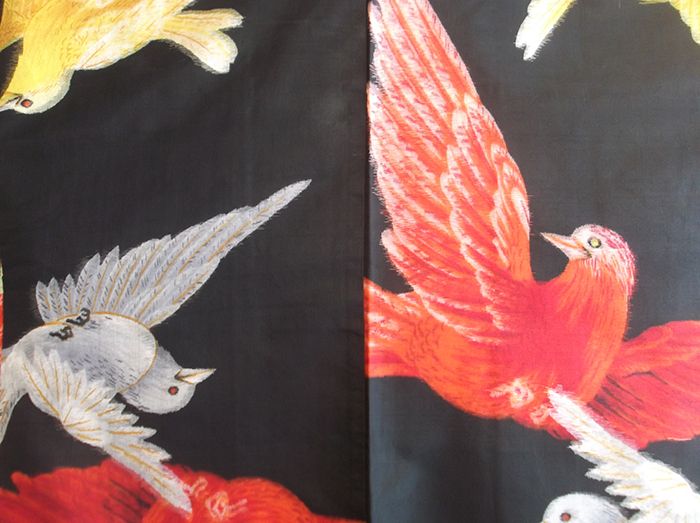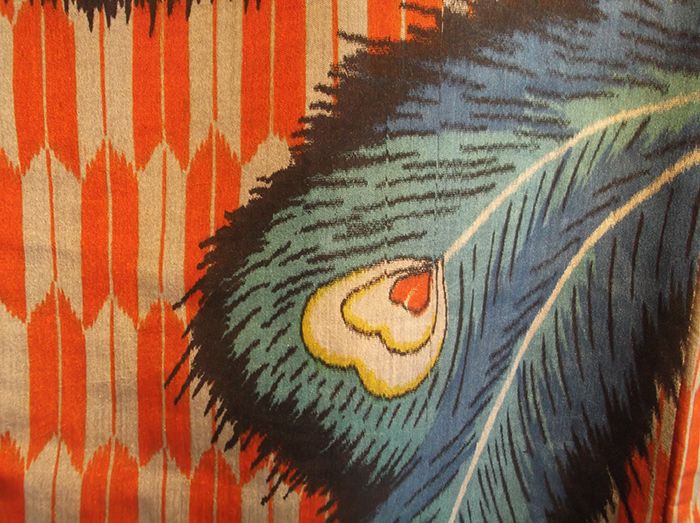 Looking through the various exhibited kimonos and their fun patterns, I was quite intrigued by the ones featuring "modern" themes, as the cities or the military items like the
Zero
..!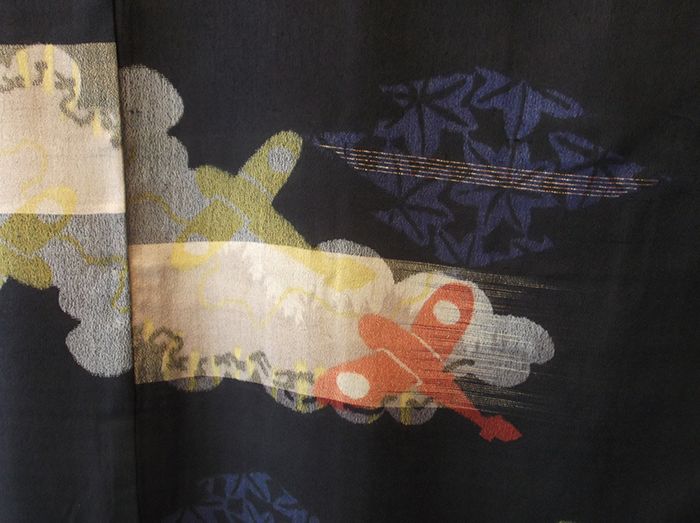 Besides the kimono and the posters of the times, it was possible to watch an interesting documentary featuring the texile laboratory Kiryu, where we are showed the various phases of the making of a
meisen
kimono.
The printing used the
ikat
technique, imported from the Asian territories of Indonesia and Philippines. By this peculiar technique, the silk is dyed, then the yarn is separated and weaved back: this permits a great freedom with design and styles, and that typical "soft", blended look that defines the patterns realized in such a typical style.
The exhibition was part of the 150th Anniversary of the Japan-Italy Relationship, and it's been an extremely interesting visit!